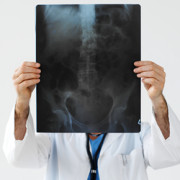 "Around the second week in April 2013 after working in the yard I noticed a small pain going down my thigh from my groin. The next day the pain was worse and I had some other pain in my right thigh area as well. The third day the pain was even worse. I knew something was wrong, but not sure what. Thoughts went through my mind – maybe it is cancer or MS or something like that. Since I was going to start Medicare on 5/1/13, I decided to wait until then to see the doctor. I went to see a highly regarded orthopedic surgeon and was diagnosed with arthritis of the right hip joint.
I started my research and found that there was a fairly new type of hip replacement called the Anterior Approach. The earliest appointment I could get with Dr. Hanson was June 12, 2013. My leg pain was getting progressively worse. Dr. Hanson is very personable. He discussed the Anterior Approach and why it is better â because he takes x-rays right there in the OR to be sure the socket is positioned at exactly 45 degrees and there is much greater precision in getting the leg length correct. I was totally sold. Sadly, the soonest I could get the operation done was 8/27/13, so I made that appointment. That meant waiting almost 3 months! I was already having trouble walking. I was taking ½ a Percocet and an ibuprofen every 4 to 6 hours just to function. I was worried about taking too much Percocet because it contains acetaminophren and too much of that will kill your liver. The best way I could describe the pain would be if you had ground glass in your joint.
8/13/13 the date of my operation. I had to be there at the hospital at 5am and I was. I had to take 2 showers before going and had to use an anti-bacterial scrub on my leg just before leaving. Most of the paperwork was already done, so they tagged me with a bar code bracelet and I went into the waiting room for the OR. They prepped me. Then the nurses, then the anesthesiologist, and then the doctor came in. Then they rolled me into the operating room where the special table for the Anterior Approach was set in the middle of the room. They put me on that table and in about 5 minutes I was out. I woke up in a post op room and I had to wait about 2 hours for my room in the new wing of the hospital to be cleaned.
My room was very nice and private. The nurses watched over me like hawks. That afternoon of the surgery they had me get up and walk about 3 feet and then back into bed. I had some pain from the incision and trauma, but it was all controlled by drugs. The profofal was still in my system and they were giving me 2 percocets every 4 hours or so. They pumped me with antibiotics each day.
The picture of my hip implant was taken 1 week after surgery and I drove my SUV to the doctors office just to prove I could do it. I progressed quickly, but I was in good health to begin with at age 65.
I just went to see Dr. Hanson today for my 1 year visit. He is everything you could want in a doctor – skilled in the most modern procedures, doesn't cheat you out of office time, knows his business and explains it so you can understand it, sets your mind at ease, very personable and fun to talk to. Hopefully I won't need my left hip replaced or my knees, but if I do Dr. Hanson will be contacted without any hesitation. Although not fortunate to need the operation, I've been fortunate in every other way. Dr. Hanson and all the wonderful people that contributed to my well being – I thank you in the deepest way possible! I unquestionably recommend Dr. Peter Hanson and Grossmont Hospital to you all."