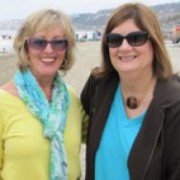 "A Pair of Best Friends, a Pair of New Hips."
Greta Treadgold and Beverley Dean are best friends, linked by a common bond beyond evening cocktails, a book group and lunch dates. The La Jolla and San Diego residents both had hip replacement procedures performed by the same surgeon, less than a year apart.
"At first, I thought I pulled a groin muscle during a Pilates class," admitted Dean, who was a fitness instructor at a local YMCA. "So I got an X-ray and the doctor tells me that I donât have any cartilage. I have osteoarthritis."
The shocking news prompted Dean to research hip replacement surgeries in San Diego, and a physician friend strongly encouraged her to seek the anterior approach procedure.
"You could have punched me in the stomach because here I am, an active, middle-age woman who taught fitness classes," said Dean. "When I was told I needed hip replacement, I thought 'this is for old people.' I was shocked."
Her findings led her to Dr. Peter Hanson, a Sharp Grossmont Hospital-affiliated orthopedic surgeon who performs the anterior approach – a minimally invasive treatment option for hip replacement.
The anterior approach allows the surgeon to operate at the front of the hip (anterior) rather than the back (posterior) using a small incision. This leaves the most important muscles for hip function – gluteus muscles that attach to the pelvis and femur – undisturbed. It results in a shorter hospital stay for the patient and a faster recovery.
"Dr. Hanson was wonderful, personable and friendly. There was no hesitation that I made the right choice," Dean explained.
Treadgold also turned to Dr. Hanson for her procedure.
As a real estate broker and weekend hiker, Treadgold was constantly on her feet. She started to notice her hip pain when climbing stairs in client homes.
"The pain was so unbearable, I had to pay another agent to show the house, while I sat in a chair and greeted clients," admitted Treadgold. "Hip pain is a disaster with my business."
Treadgold was initially misdiagnosed with bursitis and received physical therapy – but the pain returned. She then did some research, received advice from Dean and wound up in the office of Dr. Hanson.
"He made me feel comfortable and explained the entire procedure thoroughly," said Treadgold. "I was very impressed with him and felt very good about my choice using the anterior approach after I left his office."
The pair both had successful surgeries – having to stay in the hospital for three days, rather than the average six with conventional surgery, and both were active and back to their normal routine within two to four weeks.
"I was walking more than a mile in 10 days," revealed Dean. "My neighbors couldnât believe it. I felt great."
The pair is now enjoying an active lifestyle. Dean is back to doing Pilates, cardio workouts three times a week and swimming everyday. Treadgold is also reaping the benefits from her procedure. She's climbing stairs without hesitation – no longer needing a second agent to show homes – and she's back to hiking on the weekends.